Billie Eilish debuts unreleased song at her Manchester concert and it's SO SAD
Publish Date

Thursday, 9 June 2022, 3:55PM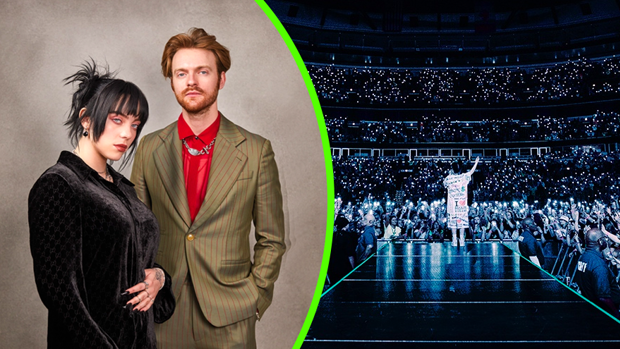 Billie Eilish is undoubtedly
one of the most famous artists in the world and she isn't slowing down any time soon 🙌
Billie Eilish has just started her UK leg of the 'Happier Than Ever' world tour!  
For her first show at the OA Arena in Manchester, Billie shared to fans that she hasn't "played a new song live before it's out since 2017 or 2018. This is one we just wrote, and we just wanted to play for you," 'we' referring to herself and her brother, FINNEAS. 
The unreleased song, which fans are calling 'TV,' is a slow yet powerful track with themes around losing friends, fighting with your significant other and feeling a sense of hopelessness as the television plays depressing news. 
In recorded versions from fans, we can see Billie on vocals with FINNEAS playing guitar throughout. 
The simplicity of the acoustic song allows the heavy themes to stand out and at times they can be uncomfortable to digest.  
In the second verse, she sings: "Did you see me on TV? I'll try not to starve myself just because you're mad at me." 
The chorus is something a lot of her fans can relate to, as she sings "All of my friends are missing again, that's what happens when you fall in love. You don't have the time, you leave them all behind," "You tell yourself it's fine, you're just in love." 
References to Roe v. Wade and the defamation trial between Johnny Depp and Amber Heard are in verse two. 
"The internet's gone wild watching movie stars on trial/While they're overturning Roe v. Wade," "Maybe I'm the problem." 
Billie hasn't shared when or if there's plans to release 'TV', fingers crossed she'll sing it once she's in New Zealand

later this year!

Take your Radio, Podcasts and Music with you