Are You O'cake?: Kiwi company selling cake kits to encourage chat about mental health
Publish Date

Tuesday, 16 March 2021, 2:50PM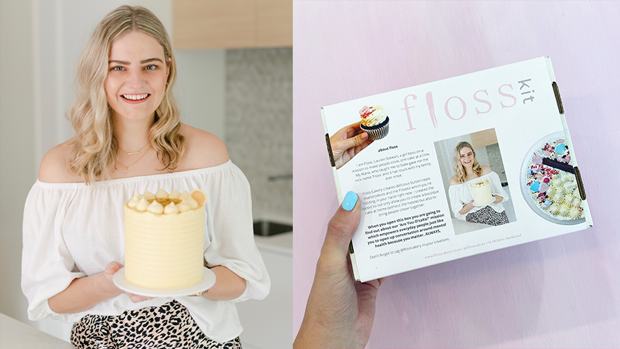 Local Kiwi company Floss Cakery is launching a brand new initiative to get us chatting about the tough topics, over cake!
Located in Auckland, Floss Cakery's Are You O'cake? is a project to both bring awareness to those with mental health struggles and to help people open up conversations with a friend or loved one in a comfortable way.
Founder of Floss Cakery, Lauren Stewart explains: "I understand how tricky it can be to start conversations around mental health so I created Are You O'caKe to help make it easier and fun!"
The first treat in the Are You O'cake? project is The Flosskit which contains everything you need (chocolate cake mix, sprinkles, piping tip, sweets for decoration) to create Floss' delicious signature chocolate cake (or cupcakes) for any occasion.

With the idea that you bake it together with your loved one and check in, chat about how each other is doing. Each kit comes with some helpful things to give you a hand with the conversation, created by Lauren, her therapist and the team at Voices of Hope.
On why she came up with this idea, Stewart explains; "I know how tricky starting a conversation around mental health can be, I know we can worry about how will they react, what will they say and we get frightened and in our head about it.
But what if it wasn't scary or uncomfortable? I once had a friend come to me and talk to me about my mental health, it made a huge difference to me and they helped save my life. Now I would like others lives to be saved because it really matters to me, it really hurts to be seeing the suicide, self harm etc rates go up and up."

"I remember having deep and meaningful chats in the kitchen when I would bake with my friends at high school or when we were distracted by delicious food and both comfortable, things just flowed.
Years later, Are You O'caKe was born, I love the idea of people coming together and being creative and having a laugh in the kitchen using my Flosskit and while you're there why not have a chat about how you're feeling too?"
"This project means so much to me, I believe Are You O'caKe? is the reason I'm here, to share my story, to help others who are struggling, to save lives, but I need your help to do that. Together we can fight this."
Want to get your own Flosskit? 
You can purchase a Flosskit at flosscakery.co.nz under 'Are You O'caKe'. All pre orders will a receive a special gift to say thank you for supporting and fighting. Keep up to date through @flosscakery on Instagram to find out when/where they'll be in stores.
Where to get help:
If it is an emergency and you feel like you or someone else is at risk, call 111.
Take your Radio, Podcasts and Music with you