All the ways you can help those impacted by Cyclone Gabrielle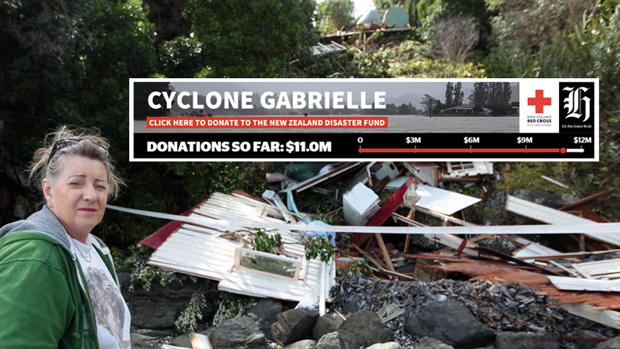 Cyclone Gabrielle has affected thousands of people across Aotearoa.
Forcing people to vacate their homes, many without power and access to essential supplies, whilst others still remain uncontactable.
The people affected need your support and ZM and the NZ Herald is encouraging anyone who is able to do so, to donate to the Red Cross and Mayoral Relief Funds.
The Red Cross is asking people to donate money instead of goods or services, saying this was the best way to make sure local communities get help in the most effective way.
Thanks to the geneorisity of NZ'ers, the Disaster Fund has already reached $11 million dollars.

Below are some ways you can help families who have been impacted by Cyclone Gabriel.
How to donate:
You can donate directly to The Red Cross here. 
Donations of food or money can be made directly to Auckland City Mission here.
To help animals, texts can be sent with HUHA to 4463 to instantly donate $3.
Volunteering:
To volunteer, visit Volunteering Hawke's Bay, Volunteering Northland, Volunteering Bay of Plenty, Volunteering Auckland or Volunteering Waikato.
To help with the cleanup, you can join the Student Volunteer Army.
Orange Sky, which offers laundry and shower services, welcomes donations of toiletries (but not towels or blankets as they have no storage). To request this Auckland-city wide mobile service, you can contact Helen on 021 026 77298 or [email protected]
AUCKLAND
Auckland Emergency Management is the go-to website for local advice, updates and locations of all the centres and support hubs for those in need.
Those needing urgent accommodation should contact Auckland Emergency Management on 0800 222200.
If you have any welfare concerns, police have established a Major Operations Centre.
Community support hubs are located at:
- Moana-Nui-a-Kiwa Pool and Leisure Centre, 66R Mascot Ave, Mangere (24 hours)
- New Lynn Community Centre, 45 Totara Ave, New Lynn (9am to 5pm)
- Birkenhead Leisure Centre, 46 Mahara Ave, Birkenhead (9am to 5pm)
- Manu Tukutuku, 32 Riverton Drive, Randwick Park (9am to 5pm)
NORTHLAND
Visit Northland Regional Council for updates and local advice.
For information, assistance or to report cyclone-related issues, you can call these numbers:
- Whangārei District: 0800 932 463
- Far North District: 0800 920 029
- Kaipara District: 09 439 1111 for welfare assistance or 0800 727059 to report damage to roads or log other service requests.
There are two community-led welfare centres operating for the homeless community of Whangarei:
- Terenga Paraoa Marae on Porowini Ave in Central Whangārei
- McKay Stadium Kensington is also open for people who need to leave their homes and/or are homeless, 97 Western Hills Drive, Kensington.
TAIRĀWHITI
Visit here for local advice and updates or call Tairāwhiti Civil Defence Emergency Management at 0800 653 800.
Welfare centres:
- Gisborne city - Ilminster School, House of Breakthrough, Te Poho o Rawiri Marae
- Potaka - Potaka Marae evacuation centres
- Hicks Bay - Hicks Bay Motel Lodge
- Te Araroa - Awatere Marae, Hinepare Marae
- Awatere/Whakaangiangi/Kopuapounamu - Awatere Marae, Horoera Matahi Marae
- Tikitiki - Rahui Marae, Rangitukia, Ohinewaiapu
- Ruatoria - Mangahanea Marae, Whakarua, Tikapa, Te Heapara Marae, Hiruharama Marae, Penu Marae
- Te Puia Springs/Waipiro Bay - Taharora Marae, Waipiro Bay School, Backpackers at Te Puia Springs Pub
- Tokomaru Bay - sports centre (CD Hub), Tuatini Marae
- Tolaga Bay - Hauiti Marae
- Te Karaka - Te Karaka Area School
- Manutuke - Whakato Marae, Takitimu Marae, Waituhi and Pātutahi
- Patutahi - community hall
BAY OF PLENTY
Visit here for local advice and updates.
Tauranga shelters:
- Baypark Stadium: 81 Truman Lane
- Tamapahore Marae: 46 Tareha Ln, Mangatawa
- Huria Marae: 1 Te Kaponga St, Brookfield
- Hungahungatoroa Marae: 29a Hungahungatorora Rd, Matapihi
- Whetu Marae: 612 Welcome Bay Rd
Western Bay of Plenty shelters:
- RSA Waihī Beach – 99 Beach Rd, Waihī Beach
- Pongakawa Action Centre – 956 Old Coach Rd
- Tuapiro Marae - 24 Hikurangi Rd, Tahawai
- Orchard Church in Te Puke – 20 MacLoughlin Drive, Te Puke
- Katikati Baptist Church – 2 Wedgewood St, Katikati
- Athenree Homestead and Station - 360 Athenree Rd, Athenree Gorge
Eastern Bay of Plenty shelters:
- Whakatāne War Memorial Hall - Short St, Whakatāne
- Fire and Emergency NZ station Waihau Bay - 113 State Highway 35
- Tawaroa Station - 147 Tawaroa Station Rd
- Te Kaha Marae - State Highway 35
- Te Kura Mana Maori O Maraenui - 11 Maraenui Pa Rd, Hawai 3199
- Torere Kura -2276 State Highway 35, Opotiki
- Ōpape Marae - 76C Opape Rd, Toatoa 3197
- Ōpōtiki College - 22 Saint John St, Ōpōtiki 3122
- Te Rere Marae - 50A Te Rere Pa Rd, Ōtara 3197
- Kutarere School - 461 State Highway 2, Kutarere 3198
WAIKATO
Visit here for local advice and updates. The Hauraki District evacuation centre is located at Paeroa War Memorial Hall.
HAWKE'S BAY
Visit here for local advice and updates.
Civil Defence Centres:
- Omahu residents can seek help at the Hastings Sports' Centre, 503 Railway Road, Hastings
- Taradale community can seek help at St Joseph's Māori Girls' School, 25 Osier Road, Greenmeadows, Napier
MENTAL HEALTH
If you feel you need mental health support for yourself or others, call your general practice, after-hours GP practice or Healthline on 0800 611116.
You can also free-call or text 1737 to talk to a trained counsellor.
HELP FOR ANIMALS
If you know someone who needs help with animals, call HUHA on 027 4416474, 022 249 1020, or 0800 00 83 33.
To request help from SPCA, Aucklanders can call 09 256 7300 or email [email protected]
Article first published in the NZ Herald and republished here with permission.
Take your Radio, Podcasts and Music with you