13 last min Halloween costume ideas- because you forgot
Publish Date

Tuesday, 8 October 2019, 3:29PM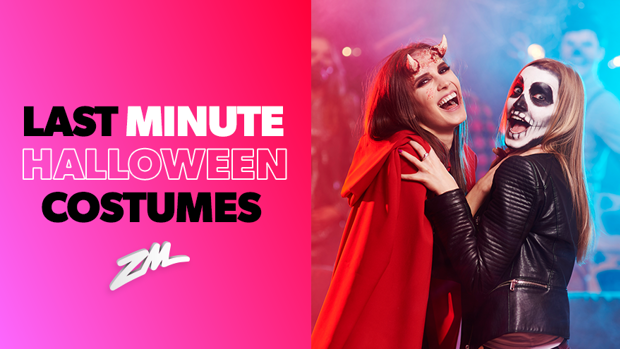 It's nearly Halloween and you don't know what to wear- cause you're lazy, or you forgot...
Well, we've got you covered, we just can't guarantee they're the most original.
1. IT (From the second movie, obviously)
IT has been a popular costume over the past few years, so you're bound to know someone who already has the outfit. Slap on some white face paint and some red lippy and you're sweet.
2. The And I OOP meme
If you haven't heard of this meme, you're missing out. (See video below) This costume is hella easy and let's be real you can still look super cute on the night. Just don't do blackface, that AIN'T cute sis.
3. Literally any character from Euphoria
 All you need for this look is some cute, on-trend clothing and a little glitter smeared all over your eyes with a fun shaped eyeliner.
4. Stranger Things
Whether you go as Eleven, the monster things or wear the Ships Ahoy uniform, you're bound to look cute and relatable this Halloween.
5. The classic Angel/Devil 
You can't skip this classic look when you're looking for a last-min costume. Grab some wings and headpiece from your local dollar store, chuck on a cute outfit underneath and you'll look like you planned it for weeks!
6. Spice Girls (in 2019)
In 2019 the Spice Girls came back and everyone was shook. Gather your squad and spice up your life this Halloween!
7. Old Town Road
The song went viral and you can too. Combine a cowboy hat with a generic cowboy outfit, and carry a horse stuffed toy with you to complete the look! If people need clarification- make sure you have the song ready to go on your phone.
8. Area 51 alien
We stormed- and it was great. Take styling tips from your Area 51 alien friends and go green this Halloween. 
9. Sabrina from Chilling Adventures of Sabrina
If you're a fan of the Netflix show, this outfit is perfect for you. Knee socks, short skirt, and a white/blonde wig and you've got yourself a costume that will look great on the 'gram. Add a little fake blood if you really wanna be spooky.
10. Ashley O from Black Mirror
Grab a bright purple wig, some sort of white outfit and you're sorted. If you have a little extra time, carry a robot around with you and you're sorted!
11. Lady Gaga and Bradley Cooper (couples costume)
Bonus points if you find a piano at a party and basically make out while you pretend to play...
12. The Fab Five from Queer Eye!

Grab four friends, and dress up as your favourite gays- with the perfect excuse to judge everyone else's costumes! 
13. An emoji
Whether it's the dancing girls emoji or the hair flip emoji, going as an emoji is the easiest way to be recognizable. Everyone knows emojis!
Happy Halloween, you lazy b*tches!