Side Hustle Q&A with Vodafone Business
Publish Date

Tuesday, 24 November 2020, 12:55PM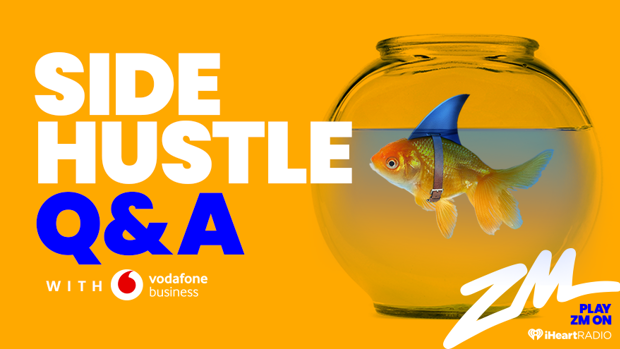 1. Why should I create a business profile on Instagram and Facebook?
Some people might not like it but social media is the way we communicate these days – both as consumers ourselves, and as brands. According to the We are social x Hootsuite Digital 2020 New Zealand report 84% of NZ internet users age 16-64 report using Facebook at least once a month (52% use Instagram). With the Covid-19 pandemic moving much of our conversations, interactions and purchasing online, it's more important than ever to be where your customers are.
A business social media profile gives you access to tools like advertising and insights. Insights allow you to monitor what posts (or products) are getting the most engagement (which can be surprising!) and see what type of people are your prime buying audience. With a business profile you will come up in search feeds for people who are interested in similar products and you can also enable shopping on your accounts.
Facebook is also great for creating a community among your customers – if you're able to create informative, inspiring and entertaining content for your customers, they will follow you for this content. You also have the option of creating groups on Facebook, which is an awesome way of growing a core group of advocates for your business.
2. What are the best ways to build a following on social media?
Firstly, take a look at what your competitors are doing as well as similar sized brands to yours, both within and outside your industry. Assess what's working well for them and what's not working so well. You can learn a lot from what brands are doing, get some great ideas for your own profile, and more importantly, learn how to differentiate your brand.
Secondly, content, content, content. If you haven't heard the phrase 'content is king' you have now. Don't underestimate the power of organic content. Ensure you're tagging the right people so they can re-share your content with their friends and grow your organic reach. It will also help the algorithms pull your content up the top as the more people who view and engage with your content the more likely you will be pulled to the top.
Giveaways are also really popular with audiences for all the obvious reasons and are especially important when you're launching a new channel. Promos and incentives help to build a following by asking your audience to share and like your page.
Starting out as a small business you should try to follow the 70-20-10 rule. This means sharing content that adds value to your audiences 70% of the time, posting about other brands/ideas 20% of the time, and only 10% of your content should be self-promoting. This might seem counterintuitive at first, but you will find that people come back to your profile for this content, over and above any content selling your products and/or services.
And of course, you have the various different ad options to use to increase your follower numbers. On Facebook, Instagram and LinkedIn, you can promote users to like your page/profile with a variety of ads. You can also invite people to like your page on Facebook if they engage with one of your paid ads.
It's also important to be social on social! It's a two way street and people will expect to be able to have a conversation with you, either about the content you've been posting, or your products/services, or your company's story. Be prepared to have a chat. Rule of thumb – if you're not going to respond to comments on a post, don't post the content in the first place.
3. I'm not very creative when it comes to engaging images and artwork on social media, is there a way to learn and develop this skill or should I outsource someone?
That's OK! There's so many ways you can learn these skills online these days.
The first thing to do is make sure you know what content works well on which platform – in general video is preferred over images if you are driving awareness or engagement, while static images are preferred for driving people to a website. There are of course exception to the rule e.g. Instagram was originally designed to share beautiful imagery and these posts can be just as engaging. Each platform has its own recommendations and you can find these easily online by searching 'Snapchat creative best practice', for example.
There are some great resources available that you can check out to improve your overall social media creative skills, such as Facebook Blueprint, Linkedin Learning, Shutterstock Tips and Tutorials. Tools like Photoshop or Canva are good starting points to start playing with content creation.
If in doubt, have a go. If your product is great, people will recognise that and your creative will be forgiven.
However if you're time poor or really uncertain, you can also absolutely outsource your creative to someone – we have some awesome freelance designers here in Aotearoa. Businesses like Kin help promote and build businesses on social media, or there are great designers you can find by posting on Facebook pages such as ChooiceNZ or Girls In Business.
4. I've heard of other small businesses collaborating to support each other, how does this work and is it helpful for my own small business?
One of the great things that came out of this year is the increase in consumers supporting local businesses, and small businesses supporting each other too. This is a great way to grow awareness of your business, especially if you're partnering with a business that has a more mature social presence than your brand.
It's important to ensure you're partnering with brands that match your own brand values and beliefs and that what you're partnering on makes sense and is relevant to your customers/audiences. You want to ensure you're also staying true to your brand identity, so chat to the other business about what you both want to achieve and then work together on content that helps reach that objective.
There are great ways to promote/highlight your partnership on social. If you're working with another small business you can use the 'paid partnership with' or 'sponsored content' options on Instagram, as well as tagging their account.
And don't forget you can work with individual influencers to promote your brand too – they are their own small business. This is an awesome way to promote your brand – especially if you sell a physical product. Take Gym Shark in the UK – its rise in popularity is almost all down to the fact they sent free marketing samples to fitness Instagram influencers – hoping that the quality of the products would speak for itself. It did and the brand is now a global powerhouse in the athletic fashion industry.
Of course, if you love lots of local businesses there is nothing to stop you from giving them a shout out, showing your support or using your business to promote their business without it being an official partnership. There have been loads of great examples recently where brands just post their favourite local restaurant, bar, gym, fashion brand etc. As long as it's authentic, your audience will know, and it's likely to be this kind of content that brings people back to your page and want be part of your online community.
5. I'm new to social media, is it okay to just start with one account and add others as I go?
Absolutely! It's far better to go for quality over quantity. Do some research into where the majority of your audience is - who do you want to market to, who will be most interested in your business - then start there.
Facebook and Instagram are always solid choices for your first social media profiles as they allow you to market for free (albeit with limited reach), and they give create economies and efficiencies. You have a marketable base of about 3.2million people on Facebook and 2.1million on Instagram, as well as the most comprehensive targeting options of all social platforms.

1. Should I be investing a lot of money to start a small business? I've got savings but I don't want to risk it all in case it doesn't work out!
You don't need to invest a lot of money at the start. Start small and build it up slowly. If your product has a genuine place in people's hearts, social media is a great place to find that out. Once you get repeat engagement and a growing audience you can consider testing small investment amounts advertising on social media channels or shopping platforms like Etsy.
Work out a five year plan for your business to give yourself a realistic look at how much is needed both in upfront costs and what will be needed to scale the business to where you want to get to. Don't factor in making much of a return initially but slowly growing your profit as you grow your audience.
2. My parents have offered to help me out and lend me cash to get my side business off the ground – I'm nervous that if I involve family it will feel like they're part of any decision making. Is it best to just get a loan from the bank?
This is always a tricky one and often depends on your relationship with your family. It is possible to have 'silent' partners that are not part of the decision making or to create an investor relationship that involves regular check-ins. However you are wanting to structure it, it is important to be upfront with expectations and agree everything in writing first.
3. How do taxes work for a small business? Should I go to a professional accountant or is there a way I can work it out myself?
Online cloud-based accounting software such as MYOB or Xero can make accounting a lot easier these days however it is good to couple that with advice from a financial adviser (an accountant or bookkeeper). Your adviser can help set up the system to ensure you are on the right track, provide ongoing support and help with key financial reporting dates. As your business grows a good financial adviser will be also able to advise on investment or growth opportunities and help with key strategic decisions.

1. After reading all of this, I'm really keen to start my own side hustle – but where do I start?
Just start! The best thing to do is put yourself out there. A lot of the time people sit on their ideas and are too nervous to show them to the world.
Start by validating your ideas. Reach out to your friends and family (who can often be both your biggest cheerleaders and your harshest critics) and see if your business solution if something of interest to them. How much would they be willing to spend on it? Where would they expect to purchase it?
Work on your business pitch – that one (or two) liner you can use to tell someone exactly what your business does. What is the purpose of your business and how is it solving a problem for your potential customers?
Then give your business a name and design a logo. Build a free social media profile and start to engage with people on it. You'll be surprised what happens when you just start putting yourself out there.
2. What is the importance of having a business plan?
A business plan helps you work out the level of time and money needed to build your business to the level you are hoping for. A five-year plan is usually a good start, work out what you want your business to look like in five years (be realistic) and work back from there.
3. What are the legal aspects I need to consider when starting a side business?
If you have a brand name for your side-hustle in mind, do a quick trade mark search on the IPONZ website to make sure nobody else is already using the name. It's a good idea to do a Google search of your name too. If the name is available, you might want to register it as your own trade mark.
If your business is a new idea or quite unique, and you need to tell others about it while getting set-up, you should consider getting them to sign a confidentiality agreement acknowledging that you own the idea, so they aren't tempted to adopt it as their own.
You also might want to think about incorporating your company, which can be done easily on the Companies Office website. Running your business though a company can have some advantages, but you don't absolutely need one.
Lastly, remember to get a GST number however it's voluntary if you expect to turnover less than $60k per year.
4. How can I tell if there's a demand for the product I want to sell? All my friends and family sound keen to buy but I don't know if that's because they're being nice!
Try to sample a good number of people in your target market – friends of friends, neighbours, work colleagues. Survey people or host a focus group in your living room. You will be surprised at the constructive feedback and insights you can receive.
Test the waters, offer your product or service on your local community page first or try a stall at the local markets. You can start out small to gauge interest before investing too much in the business.
5. It all seems too much at the start, what's the best way to map out a plan?
It's easy to feel overwhelmed with the decisions to be made about the best course of action when setting up a small business but start with your ultimate goal in mind and work back
from there. Reach out to other business owners, whether in your industry or outside it, and see if they would be willing to have a chat. So many business owners are happy to share their journey and advise on how they first started. Statistics show that on average it takes five years to make a profit from a business so ensure this is something you are passionate enough about to persevere through the hard times.
Rejection can feel hard, especially when you are just starting out. However "no's" are great learning opportunities – ask for feedback and what changes might make that person change their mind. Sometimes there isn't anything you can do and it just isn't the right fit but you will start to see themes coming through and you will learn what your target audience is looking for, or if perhaps you need to focus on a different target audience altogether.

1. I like the exclusivity of announcing my small business and keeping some secrets, but really want opinions on my business name and logos? Help!
Utilise a small group of friends or family, especially people who may be in your target audience, to sound out your ideas.
More often than not, a business name that clearly illustrates your product or service makes it easier for customers to find you. When it comes to a logo, research sites like Pinterest – type in your product name and 'logo' and you'll have loads of inspiration.
2. I don't know where to begin with creating a logo and I've looked online but there is nothing that stands out. Is there an affordable way to get this done?
Local small business networks or online communities are great for finding help with things like logos and business marketing. Facebook groups such as https://www.facebook.com/Chooicenz are frequented by start-ups looking for help. These can be great places to get assistance with logos or web designs at an affordable rate.
Start out by making a mood board to focus on what you are looking for – what colours do you want to use? What shapes or designs appeal to you? How do you want people to feel or what do you want them to think when they see your logo? Engage a local graphic designer and see if they can help you, with a payment structure that works for your budget.
3. How important is having a website? Are there different ways to sell products that isn't completely automated through a website?
Having an online presence is really important for a business and this includes a website. While social media is great for engagement and building an audience, a website is key to validating and being able to provide further detail about your business. While e-commerce functionality is the easiest way of selling online, there are also ways to get payment without having a fully set-up system in place from the get-go. You can ask people to pay via bank transfer or PayPal, you can invoice people with details or even accept payment on pick-up/delivery.
4. I'm scared I'll hate the designs, colours and logos after a few months after I'm used to seeing them all the time – is that normal, will that feeling fade?
That can be a normal feeling, especially once the 'honeymoon' of owning your own business wears off and the hard slog sets in. You always have the option of re-branding but keep in mind that this can potentially confuse customers. Get feedback from those around you – is it just you feeling this way or is it that you are not using enough diversity in your branding? Can you make small changes or updates without having to completely rebrand?
5. If I can only afford one kind of marketing technique – what is the best one to start with?
Never underestimate word of mouth. And this can translate to online too. Making sure you create a community with your customers and an open door for them to share your product online will create a massive amount of organic marketing for you.