New Zealand's 'sexiest' celebrities were named and here's where Fletch ranked...
Publish Date

Thursday, 2 November 2017, 7:45AM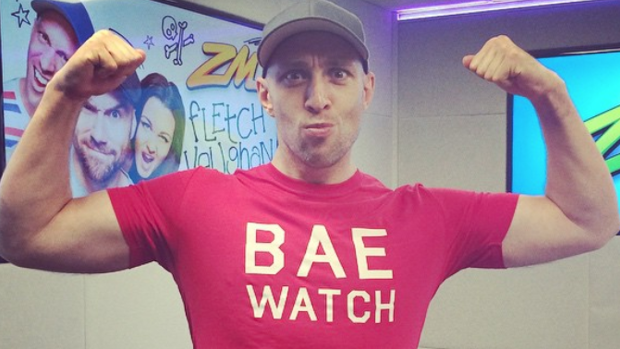 Adulttoymegastore and Colmar Brunton have recently surveyed more than 1500 New Zealanders on all areas of sex, including which Kiwi celebs they'd most like to sleep with. 
And the newly released list includes our Vaughan and his wife in sexiest couples.
PJ from the drive show has made the list of the sexiest female celebs too!
But the highlight is Fletch making the list for the sexiest male celeb, YEAH FLETCH! 
The full results for New Zealand's sexiest celebrities are:
New Zealand's sexiest male celebrities:
1. Dan Carter - former All Black
2. Richie McCaw - former All Black
3. Sonny Bill Williams - All Black
4. Ben Boyce - Comedian/presenter
5. Joseph Parker - Boxer
6. Stan Walker - Musician
7. Peter Burling - Helmsman
8. Malakai Fekitoa - All Black
9. Jono Pryor - Comedian/presenter
10. Kieran Reid - All Black
11. Dai Henwood - Comedian
12. Clint Randell - Radio presenter
13. Max Key - Musician
14. Guy Williams - Comedian
15. Bill English - Politician
16. Cori Gonzalez-Macuer - Comedian
17. Mike Hosking - Presenter
18. Jimi Jackson - Comedian
19. Carl Fletcher/ Fletch - Radio presenter
New Zealand's sexiest female celebrities:
1. Rachel Hunter - Model
2. Kimberly Crossman - Actress
3. Gin Wigmore - Musician
4. Samantha Hayes - Presenter
5. Gemma Flynn - Hockey player
6. Nadia Lim - Chef
7. Toni Street - Presenter
8. Ella Yelich-O'Connor / Lorde - Musician
9. Jacinda Ardern - Prime Minister
10. Brooke Fraser - Musician
11. Millie Holmes - Blogger
12. Hilary Barry - Presenter
13. Shannon Harris / Shaaanxo - Blogger
14. Laura Daniel - Comedian
15. PJ Harding - Radio presenter
16. Claudia Hoskins - Bachelor contestant
17. Lily McManus-Semchysy - Bachelor contestant
18. Phillipa Margaret / Ladyhawke - Musician
19. Jenny-May Clarkson - Presenter
New Zealand's sexiest celebrity couples:
1. Gemma Flynn and Richie McCaw
2. Art Green and Matilda Rice
3. Dan and Honor Carter
4. Vaughan and Shardè Smith
5. John and Bronagh Key
6. Zac Franich and Viarni Bright
7. Mike McRoberts and Paula Penfold