Bree went all the way to Taiwan and asked PAUL RUDD about his "man bits"
Publish Date

Thursday, 5 July 2018, 2:28PM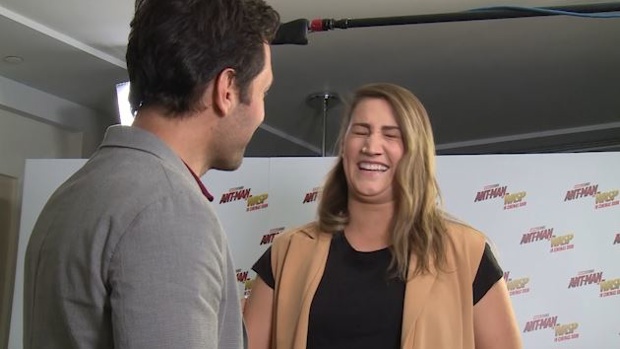 Ant Man and the Wasp the sequel to Ant Man (2015) dropped in NZ today, and we sent our new girl Bree to Taiwan to interview the stars Paul Rudd (Scott Lang / Ant-Man) and Evangeline Lilly (Hope van Dyne / Wasp).
Bree had a lovely chat with Evangeline, all about NZ and how much she LOVES it!
"I went to New Zealand years before I shot The Hobbit and that's when I spent time up north and then when I was shooting The Hobbit I spent more time south," says Lilley.
"I didn't want to go to Auckland, any time that I go to a new country I like to avoid the big cities. I like the countryside, I like the nature and little towns."
When asked about her favourite place in NZ, she replied with: 
"Well it surprises me to say, but it's Wellington because I spent a year living there and the cocoon that Peter Jackson creates is so beautiful and there is the art community. You have a lot of modern amenities, like great restaurants and cafes. I love you New Zealand!"
ANTMAN AND THE WASP is in cinemas now.
Evangeline Lilly:
Then Bree spoke to comedian Paul Rudd about the new film, where he touched on writing the film with the intention of reflecting how hard both being a parent is, PLUS being a super hero all the time.
After admitting to the actor she was "shitting herself" about the interview, Bree only really had one burning question... does 'it's cold in here' still apply when Paul shrinks down to Ant Man?
He took it like the champion he is.
Paul Rudd:
You know you've clocked life when you can make the man himself, Paul Rudd, LAUGH! 
Take your Radio, Podcasts and Music with you