ZM's guide to being able to afford Xmas, NY's and all the summer activities
Publish Date

Wednesday, 14 November 2018, 11:47AM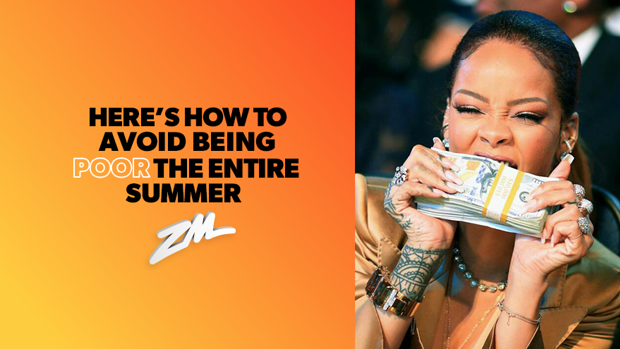 It's just hit November and it's not an easy time of year. 
You should be getting excited about the nice weather on the horizon, but with sunny skies comes the Christmas, New Years and summer festivals.
AND with that comes the need for moolah. Lots of moolah to cover off xmas presents, accommodation for NY's and tickets to all the summer festivals. Oh not to mention all the $$ you'll need for the gas tank during the summer roadie.
If the thought of having to cover all those costs stresses you out, we have a few solutions so that you can afford to be sipping your Rekorderlig cider 
1. Be smart when it comes to Christmas presents
- Buying for children? They really don't understand the value of items, so you could easily get them a few toys from a dollar store and they'll be stoked.
- Try fishing out the bargains/sales. Shop at outlet stores and get amongst all the sales that happen on Black Friday (Friday 23rd November).
- Be organised - split the Christmas present buying over a few pays, that way it won't hurt as much on the wallet at once.
- Shop around! If there's a specific item you want to buy someone, google it and see who's selling it for the cheapest. 
- Don't buy for those you don't need to. Honestly, you won't be full of Christmas cheer if you have $6.80 in your bank account. 
2. Start selling those items you don't use/need/want anymore
- That bottle of perfume that you sprayed twice and realised it wasn't the scent for you? Chuck it on TradeMe!
- If you want to sell your unwanted clothes but don't have time for the admin of selling, head to your local Recycle Boutique. They will take 50% of the profit but at least you didn't have to do any work. 
3. Try have a go at the game of luck!
- We have a TON of giveaways at the moment with ZM, keep checking our win page and head along to our Facebook as you could save yourself $200 by winning those concert tickets instead of having to purchase them!
RELATED: Here's how you can pay less for online shopping
4. Cut out the non-necessities
- Have a gym membership but never actually go to the gym? Cancel it! Or if you do use the gym, put your membership 'on hold' for a couple of weeks while you're away at the beach, it means you won't get charged for the weeks it's on hold. 
- Stop using an uber when you could walk or take the bus instead. Plus walking will get those legs toned for all the shorts you'll be donning in summer!
- Do you really need to pay $40 to get a gel manicure or can you just buy a UV light, a few gel polishes, and do it at home for cheaper? The at-home option will allow you more $$ for summer fun. 
5. Hit up the deal sites
- Want to go out for brunch on a sunny morning? Don't just pick a place at random and pay $20 for avo on toast, hit up the likes of grabone.co.nz for incredible deals so you can dine on the cheap! 
Do you have any other money saving tips? Chuck them below for us!
Take your Radio, Podcasts and Music with you