WIN UP TO $200 WITH PIZZA HUT!
Publish Date

Friday, 24 June 2022, 6:00AM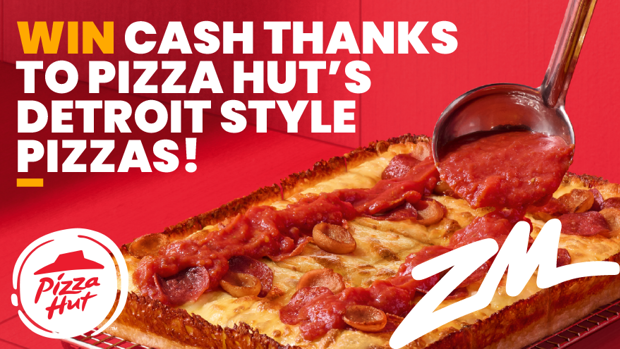 Detroit style pizzas are here! Built different, built delicious! 

We've teamed up with Pizza Hut to "Flip it and reverse it" for your chance to win $200 and a $20 Pizza Hut voucher to take home so you can try Pizza Hut's new Detroit style pizzas. 

Listen out for the daily activator with Georgia and call 0800 DIALZM to guess which song we have flipped and reversed to win. Cam on ZM's Late Show will have your second chance to score $150 cash from 7pm!

Detroit Style pizza is a delicious pizza with a rectangular base,  crispy cheese edges, toppings & the famous pizza sauce ladled over the top. Choose from 3 Detroit style pizzas, Detroit Veggie, Detroit Cheese or Detroit pepperoni & sausage for $10 each pick up at Pizza Hut. 

Taste always wins. Order online now  

Terms & Conditions Apply