Get the flight outta here with ZM's NEXT FLIGHT!
Publish Date

Friday, 10 March 2023, 6:00AM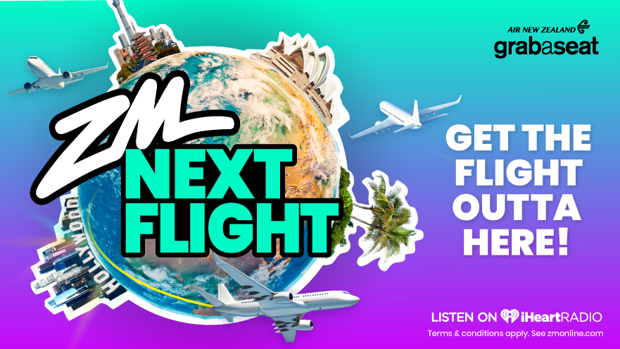 The flights are confirmed, accom is booked... we just need your name for the itinerary!
The catch? You won't know which flight you're taking until the day before!
We hooked up six different listeners with six international flights.
In the first week, we sent Sophie and her Dad Kim to Los Angeles, Julia and her partner Nick to Fiji, and Tegan and Ashley to Sydney.
In week 2, we sent Lexi and her partner Ben to Melbourne, Stacey and her husband David to Tokyo, and Ben & Safiyah to Hawaii. 
There are 195 countries in the world and for the rest of this month... you'll need to have your bags packed for EVERY. SINGLE. ONE of them. We've been waiting two years to get back to exploring the world, so we know you've got a lot of sightseeing to do!
It's time to get the flight outta here with ZM's NEXT FLIGHT, thanks to Grabaseat!
Home one night, bags packed and in sunny Raro the next... there's living, and then there's living.
All thanks to Grabaseat.
Grab life by the seat! Check out grabaseat.co.nz, for amazing deals on flights now 
Take your Radio, Podcasts and Music with you