BREE & CLINT'S PIE-THRU DRIVE-THRU WITH IRVINES CHEESEBURGER BEAST PIE
Publish Date

Wednesday, 28 October 2020, 6:00PM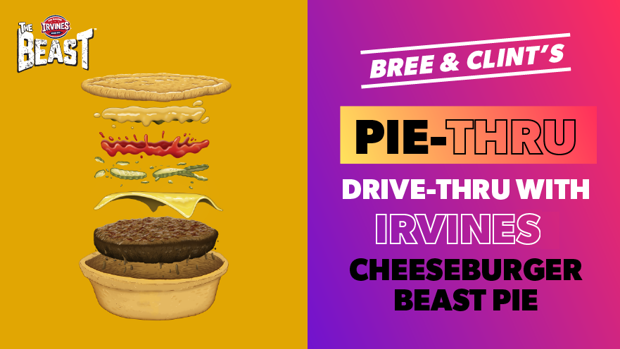 The geniuses at Irvines have combined two of the best foods in life, a cheeseburger and a pie.  
Foodies Bree & Clint, have gotten wind of this bold and delicious move and are making it their duty to tell EVERYONE about it (like it's literally their mission to get the people of New Zealand devouring the limited edition Irvines Cheeseburger Beast pie!) 
We believe the humble pie is worthy of getting its own convenient drive-thru like the burger has so Bree & Clint have created their very own pop-up Pie-Thru Drive-Thru hitting cities around New Zealand on 'pie-day Friday' with hundreds of hot limited-edition Cheeseburger Beast Pies up for grabs. 
LOCATIONS: 
 Auckland– 12-1pm, 30 October,Western Park, Corner of Ponsonby road and Williamson Ave
Wellington - 4-5pm, 6 November, 30 Esplanade Place, Petone 
  Christchurch– 4-5pm, 13 November, Cashmere Road, Cashmere
    Mystery location – you choose! 4-5pm, 20 November 
Want the Bree & Clint Pie-Thru Drive-Thru to come to your city or town? Text PIES along with your town or cities name to 9696 and we could be visiting you with hundreds of Irvines Cheeseburger Beast Pies. 
Thanks to Irvines - the newest Cheeseburger Beast Pie from Irvines, Pie or Burger? You Decide!