Bree & Clint and The University of Auckland Dream Invention
Publish Date

Friday, 4 September 2020, 1:51PM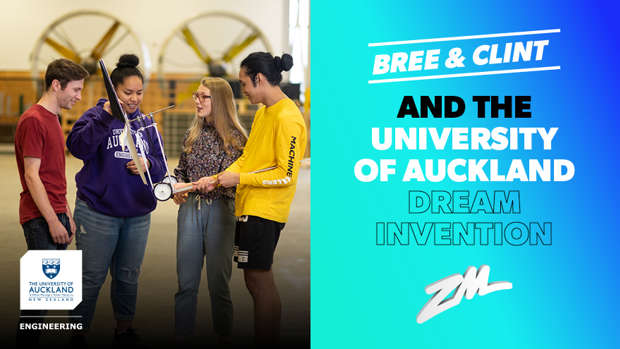 Engineering. We weren't entirely sure what it is but we took a deep dive and learnt that it's pretty cool. We didn't realise engineers could 3D print a fully functioning band, help keep our water clean, or provide companionship and care for our elderlies who has chronic lung disease through cute robots!
So we've teamed up with The University of Auckland's Faculty of Engineering, and we want to help bring your wild inventions to life!
Bree & Clint are on the hunt for New Zealand's best engineering idea. Whether it's a robot that makes you breakfast or a self-driving motorbike we want to hear how it works, and we could even be getting you on-air to pitch it to us for a chance to win.
Register your dream invention below and if you can win over Bree and Clint you could score a 5K engineering study grant.  
Build a better tomorrow today, at New Zealand's leading Faculty of Engineering - The University of Auckland. 
Go to neverstop.ac.nz/engineering to read their recent student and graduate stories – perhaps you might get a lightbulb moment before entering?

Terms & Conditions