Publish Date

Monday, 22 May 2023, 2:00PM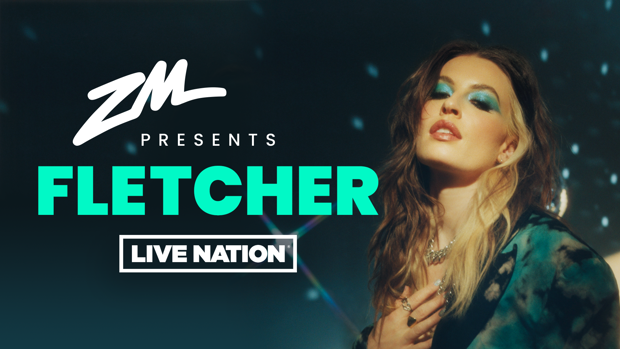 ZM & LIVE NATION ARE STOKED TO PRESENT FLETCHER!
FLETCHER will return to New Zealand later this year in celebration of her critically-acclaimed debut album GIRL OF MY DREAMS.
Head to ZM's Facebook for a chance to win!

FLETCHER
 Auckland Town Hall
November 29
The GIRL OF MY DREAMS TOUR will be an unmissable opportunity for fans to experience the album live, and fall further in love with FLETCHER as she makes her way to NZ.

FLETCHER established herself as a bonafide pop star in 2022.
Hailing from Asbury Park, New Jersey, FLETCHER received industry acclaim early in her career – largely due to her natural and candid storytelling talent, exemplified on her debut EP, you ruined new york city for me, in 2019. The record featured FLETCHER's breakout hit 'Undrunk', which scored the #1 spot on Spotify's Viral Chart; an early indicator of how the musician's potential. Following this up with 2020's, THE S(EX) TAPES, FLETCHER returned triumphant, adding to her winning scorecard with songs like 'Bitter' fast-climbing to 250 million global streams.
FLETCHER made new waves with GIRL OF MY DREAMS, landing within the Top 15 of the Billboard 200: a powerfully potent collection of songs that provided 2022's most memorable pop moments, including 'Becky's So Hot', 'Sting' and 'Better Version'  To date, FLETCHER has amassed over one billion streams globally,
The release of GIRL OF MY DREAMS brought solidified FLETCHER as a U.S. star with staying power. Among her achievements during the album cycle, FLETCHER performed on The Tonight Show With Jimmy Fallon, completed a sold out 25-date tour of North America, and joined Miley Cyrus for a rendition of 'Midnight Sky' as part of Miley's New Year's Eve Party – another viral moment of 2022. 
To win your way there, Play ZM.
Take your Radio, Podcasts and Music with you