WELLINGTON: Fringe Festival 2021
Publish Date

Monday, 15 February 2021, 12:00AM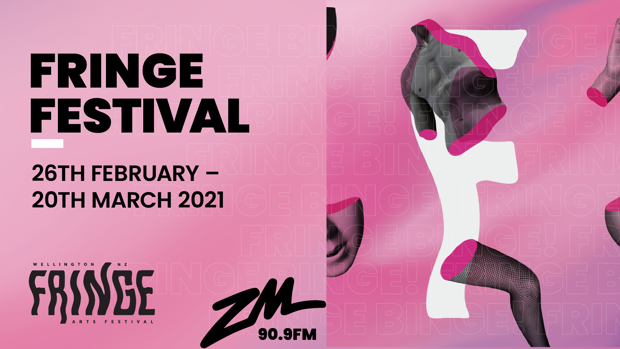 Fringe is New Zealand's cutting-edge arts Festival and it's back for 2021!
Three weeks of artistic innovation, exploration and organised chaos – something you do not want to miss.
From cabaret and modern musical theatre at 'Just a Taste'
Improv at 'Cupid's Guide to Modern Romance'
Comedy at 'Suits and Ties' and 'Travails with my Ex'
And a bald man singing Rihanna at 'Bald Man Sings Rihanna'
Whatever you're into, it's probably there at Wellington's Fringe Festival
February 26th to March 20th
To find out more and book your tickets, go to fringe.co.nz
Be sure to keep an eye on the ZM's Black Thunders Facebook and ZM Wellington Instagram pages for chances to win with Fringe Festival!
Check Out ZM's Top Picks Below!
● Just A Taste - Eye & Ear Bits/Music/Theatre/Cabaret - A musical theatre revue featuring your favourite characters from current popular Broadway musicals. You'll laugh. You'll cry. You'll leave the theatre humming a sweet tune. If you don't leave the show in a good mood, see it again!!
● Cupid's Guide to Modern Romance - Live Parts/Comedy/Improv - Come join us for an improvised, romantic fling that revels in the true awkwardness of dating. Each night, our cast of improvisers will create a different pair of unlikely lovers, send them on a date, and see if we can finally figure out how this love thing works.
● Suit and Ties - Naughty Bits/Comedy - Comedian Li'i Alaimoana has stayed away from two things since performing on stage: Wearing a suit, and his ties to the security industry through his 'Bouncer' days. Laughs a plenty as he merges both in an hour of stand up comedy.
● Travails with my Ex - Live Parts/Comedy/Storytelling/LGBTQIA+ - Have you ever decided what you need to do after a break-up is travel to Thailand to find yourself...*with* your ex? Combination of heat stroke, sleep deprivation and drug sniffer dogs can put any friendship to the test. Travails with my Ex – Part Deux is a comedy-horror-story-telling-filled fiesta, about where good intentions can take you.
● Bald Man Sings Rihanna - International/Comedy - Heard a bald man sing Rihanna? Fresh from sold out runs in Edinburgh & seen at the biggest comedy clubs across the world, including Caroline's on Broadway – Scotsman Sansome returns for one night only taking an irreverent look at music and popular culture. 'hour of pure entertainment and hilarity' ★★★★★ (Bunbury Magazine)