Amazon Prime's BINGE CLUB
Publish Date

Friday, 3 May 2019, 4:19PM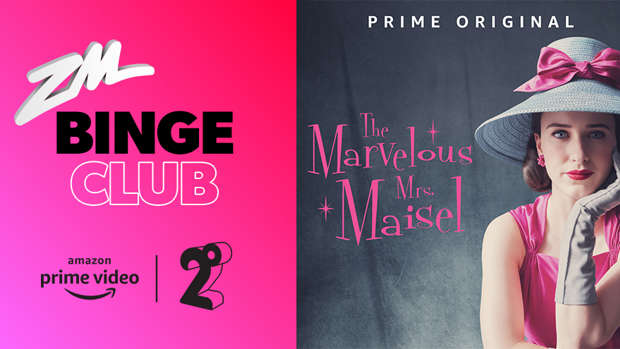 We are LOVING all the content Amazon Prime has to offer – here are our Top 3 picks!
THE MARVELOUS MRS MAISEL
If you love a good comedy-drama series – you are going to fall in love with The Marvelous Mrs Maisel.
Set in the 1950s, Miriam "Midge" Maisel seemed to have the perfect life – the husband and kids, and a fabulous apartment on New York's Upper West Side... until her family life is thrown up in the air.
After a messy night resulting in jail time after her husband leaves her, Midge discovers her secret talent – Stand Up Comedy!
Making her way through cafes and nightclubs on the other side of town, she makes her way through the ups and downs of the city's comedy industry.
A must see for anyone looking for a good laugh.
ORPHAN BLACK
If you're into your science fiction – Orphan Black is the show for you.
The main character, Sarah Manning is a young British mother living in Canada who one day discovers out of the blue that she is a CLONE.
She goes on an epic journey to find her fellow 'sisters' —the uptight suburban mom, the gay hipster scientist, the Ukrainian religious fanatic— and with each discovery comes more drama and mystery to the storyline.
The coolest thing is, most of the characters are played by ONE actress.
This series will have you hooked from the first episode – and you'll be constantly wanting to know what happens next!
FLIGHT OF THE CONCORDS
Our very own kiwi musical comedy – this TV series starring Jemaine Clement and Bret McKenzie has been praised by international audiences.
The show follows the life of a pretty shocking two-man band with a useless manager (played by Rhys Darby) and their attempt to make it big in the Big Apple – New York.
Even after repeated failures, the boys keep trying – regardless of the outcome.
Each episode features two or three songs you may or may not want to add to your iTunes.
Flight of the Concords will have you in absolute stitches.
You can watch all of these shows plus more – sign up to a 12 monthUnlimited broadband Plan with 2degrees and you'll get access to Amazon Prime Video for a year.