Auckland CBD Denny's is no longer open 24/7 so RIP to 3am pancakes and curly fries
Publish Date

Wednesday, 6 July 2022, 1:49PM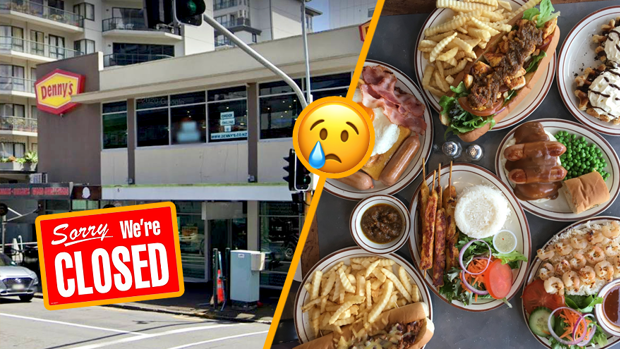 There's no better end to a night out than a 3am trip to Denny's, but now there's only one left in the country that's open 24/7...
According to a reporter from The Spinoff, Auckland CBD's GOAT of late-night dining is no longer a 24/7 establishment. For many years, it's been the ONLY dine-in experience there for us during any hour of the day, but now it's hanging up its apron on the iconic graveyard shift. 
This will come as devastating news for all club-goers who have worked up an appetite after dropping it low for hours on end at the viaduct or K Road, students on a Wednesday night or over 21's on the way home from the cas.
Nobody wants to pay their Uber driver to go through the Macca's drive-thru on the way home, queue in painful stilettos for a cheeky Queen St. kebab, or risk falling asleep waiting for their UberEats (we've all been there).
Say goodbye to being able to sit down at 3am with a menu that ranges from breaky pancakes to bangers and mash, and a milkshake to wash it all down. 

The same sign that was up during lockdown is back, reading, "Denny's Auckland CBD Restaurant will now be operating from 7am to 11pm due to current staffing shortages. This store will no longer be operating 24/7 until further notice. You can still get your Denny's fix and all your favourites with our new revised hours." 
We first saw this message back in February on Denny's official Facebook page, but looks like it is now a permanent fixture for the Auckland CBD restaurant. Denny's Christchurch also suffered this same fate back in April. 
All eyes are now on the one remaining 24/7 Denny's... the Manukau restaurant which is back to its OG 24 hours a day.  
Denny's truly comes alive in these late night/early morning hours, but now all we have to remember it at 11pm - 7am is one of those flashing cups.

Want more? Here's a bit we love from Bree & Clint – unleashed every weekday arvo from 3PM. They're always up to something, including filling in for Fletch, Vaughan & Hayley for the next two weeks on breaky! 
Take your Radio, Podcasts and Music with you