Here's How You Can Get The Kylie Lip Kit For Half The Price
Publish Date

Thursday, 12 May 2016, 5:00PM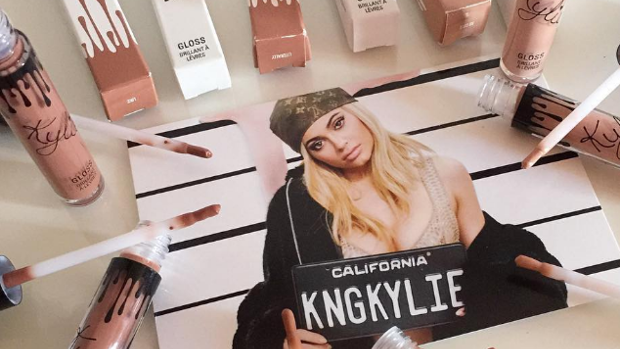 Girls all over the world have been going crazy for the coveted Kylie Lip Kits, and because of the insane popularity they sell out faster than your fingers can type in your credit card number. But thanks to a beauty blogger, it's been revealed that there's a way to get your fix for a fraction of the price.
Beauty blogger Stephanie Nicole, is known for her thorough beauty product reviews, you can actually buy a $6 duplicate that has an almost identical formula to Kylie's $29 lip kit.
Nicole recently posted a second review of Kylie Lip Kit on her YouTube channel and revealed some major news: ColourPop Cosmetic's Ultra Matte Lipsticks and Kylie Lip Kits are pretty much the same thing — identical ingredients and all.
There have been past accusations that Kylie Lip Kits and ColourPop Cosmetics' matte glosses have identical ingredients. But there hasn't been any solid evidence behind the allegations, until now. Nicole decided to do some investigating, and compared the ingredients in the two products. 
She colour-coded the ingredients to break down what's identical about the two formulas:
Everything in yellow is the same ingredient and same order in the formula.

Everything in blue is the same ingredient, but different order in the formula.

Everything in purple is the same pigment, but different order in the formula.

As you can see from the comparisons above, the formulations are extremely similar. 
She also calculated the prices, including the shipping and taxes of each product, and found that if you were to purchase both brands' lip liners and liquid lipsticks, ColourPop would cost you a total of $16.82 ($24.66 NZD), while Kylie's Lip Kits would set you back $40.13 ($58.83 NZD).
"You're cutting corners and you're making a pretty penny off of it and I think that that's just shitty," Nicole said in her tutorial.


BuzzFeed did even more digging and found that the manufacturer of Kylie's lip kits, Seed Beauty, has both ColourPop and Kylie Cosmetics listed on its homepage. Seed Beauty is owned by Laura and John Nelson, who are both the founders of ColourPop Cosmetics. 
Hmmm sounds like your just paying for the label. Not kool Kylie, not kool.