PJ's car is selling on TradeMe but people are only there for the comments
Publish Date

Tuesday, 31 October 2017, 10:30AM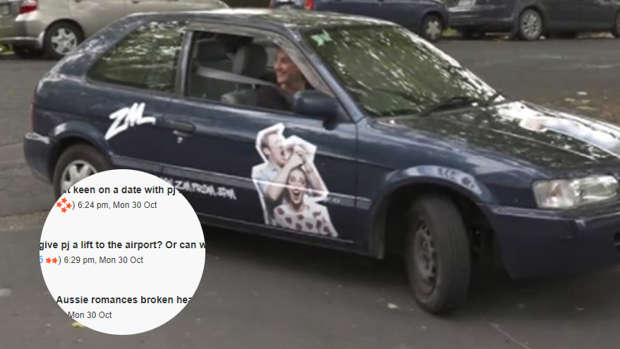 As you know, Jase and PJ are taking their radio lives across the ditch, but it's not just us they are saying goodbye to!
Moving countries involves quiiiite a bit of life admin, like selling houses, finding houses, moving stuff over the Tasman sea and of course, selling cars.
PJ's 'reliable' car is up for auction on TradeMe, with a whopping 80 people putting it on their watchlists! You'll know this car from 'viral' videos such as this one with Mike Hosking, and PJ's feature on Driven's 'Stars and their cars'. 
The TradeMe listing is accompanied by a pixelated, out-of-date photo of PJ in 'Windy G' as she calls it, and an arguably comical description:
"This is your chance to buy a piece of NZ celebrity history! 

This immaculate 2 door Toyota Corolla is owned by none-other than ZM's very own, uber rich and fabulous PJ Harding - Host of the ZM drive show with Jase "Sexy" Hawkins. 

This car has seen it all, PJ's spillages, sweaty gym gear and a distinct lack of males. 

Uniquely patterned upholstery with remnants of Kombucha (a drink that rich people drink but don't actually like) 

Sold as is, where is. 
*Sign writing not included 
*Charles the chauffeur also not included"
But our favourite part HAS to be the comments from you. 

(We're guessing catherine.bee1 is referring to the birthday candle scented air-fresheners Jase and PJ are dropping in a couple of weeks.)



Classic.

(PJ's ex-boyfriend).

HAHAHA there's always one.

PAHHHHHH! Nice try gbkong.

Judging by this video, Mike Hosking will 100% NOT be keen.

You Fugitive players are cunning!

HAHAHAHA savage.


Again, savage.
We'll let you know how much this wee automobile ends up going for (if at all).