Jase the serial prankster finally gets pranked by his Aussie mate & PJ
Publish Date

Thursday, 26 January 2017, 1:09PM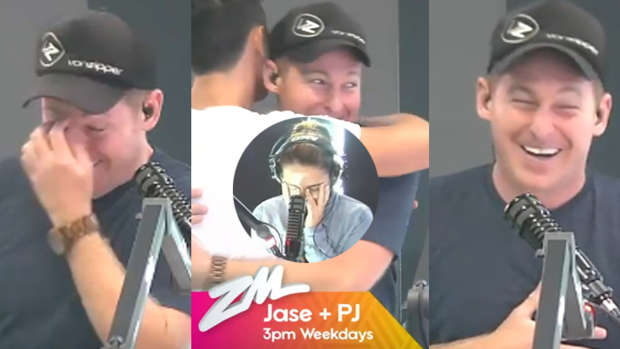 Jase, the ZM prankster, has finally been given a taste of his own medicine. 
A couple of weeks ago, Jase found out that his friend Jack (who lives in Aussie) is getting married in August. Like any friend of a groom, Jase is desperate to be a groomsman and he's going to all lengths to be a part of Jack's big day.
Everyday last week, Jase came up with an excuse to call Jack and reminisce over their friendship, in an attempt to remind Jack that Jase is totes worthy of a groomsman spot. From pocket dialling, to filling out a next of kin form and hearing their song on the radio, Jase came up with a whole lot of cringeworthy excuses for a phonecall.


Jase has continued his efforts this week too...
On Tuesday, Jase called Jack yet again to demonstrate what a good friend he is. But this time he got Ross Boss on the phone with him to explain that Jase had "turned down" a free trip to Vegas for an iHeartRadio concert because it had conflicted with the wedding date. We all know how much Jase loves Vegas, so that was massive sign of commitment to the friendship!


Then on Wednesday, things got a bit nerve wracking when Jase called up Jack only to find a very distressed mate on the other end of the phone. Jack revealed that the date of the wedding is being moved back because Jack and his fiancé are fighting. Jase scrambled to divert the convo going live to air, but Jack continued to pour his heart out. Jack then revealed to a very flustered Jase, that he was only kidding and had heard a Jase and PJ podcast the other day talking about Jase's cringeworthy plans, so he decided to get him back:


But wait, it gets even better. After Jase still hadn't actually popped the 'groomsman' question, he decided to give Jack one last call on Thursday to get his answer once and for all.
That's when Jase got the ultimate payback from not only Jack, but also our beloved prank-victim, PJ. When Jase called Jack to fiiiinally ask the awkward question, he was greeted by a very unexpected surprise... PJ flew Jack across the ditch to deliver the answer himself!! Watch how AWKWARD Jase is...
Aaannd after all of that, Jack has asked Jase to be the button pusher for the music!! Our favourite part was probably when Jase found out how many groomsmen Jack is going to have. LOL, soz Jase. A classic stitch up from PJ - it's good to see you get your own back, girl!