Why every basic b*tch needs a mid-year holiday in Thailand
Publish Date

Tuesday, 19 June 2018, 11:21AM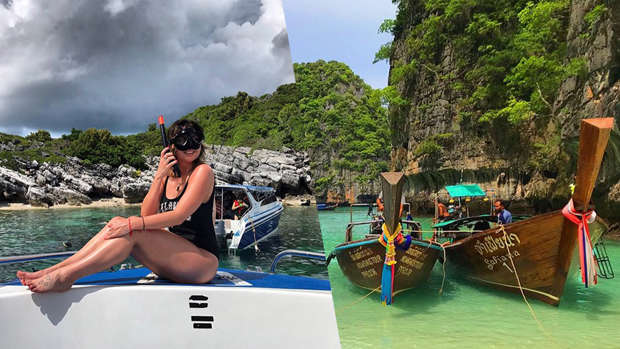 Our gal Bel is known around the office for being all about living her best life, and it came as no surprise when she announced that she'd be taking a break for an Eat, Pray, Love style experience in lovely Thailand.
If you're finding that you're stuck in a rut or just need a bit of a break from your stressful millennial life, a mid-year holiday is exactly what the doctor ordered, and Bel is just the girl to convince you. 
"I planned to go away somewhere warm during winter. Originally a couples holiday but with a change of plans due to a long distance relationship and circumstances changing, I did the classic 'book a holiday after a break-up so you have something to look forward to' and I'm SO pleased I did. I visualised a villa right by the beach, swimming in the clearest, sparkly blue water that was as warm as a bath, lying on the white sand reading, resting and doing yoga in the sunshine.
My boss and workmates joked before I went away that it was my Eat, Pray, Love trip."
Itinerary 
Day 1-3: Koh Samui 
"I flew to Koh Samui. We stayed in  Chaweng Beach for two nights at First Bungalow Beach Resort. They have a great hotel pool, it's right on the beach, and really good food and bar spots. I also wasn't mad about getting a 350 baht ($15 NZD) daily massage."
Day 3-5: Koh Pha Ngan 
"We travelled by ferry to the second island spot of the trip. Our accommodation was right on the main beach where the famous Full Moon Party takes place. We had some rest days which was amazing. The beach is so beautiful, one day we spent over four hours in the water, Lots of spots to wander,  make sure you go to the viewpoint at the end of the beach for a great pano view."
Day 5-7: Koh Tao
"After a grand total of three hours sleep post-Full Moon party, we got up really early to get a ferry to our third island Koh Tao. We stayed at the cutest little bungalow villas on a hillside. There's a big pool on the edge of the ocean at the bottom of the hill. We hung out in the pool for the day recovering and playing a sweet game of Marco Polo. That night we went to a fire-throwing show and a ladyboy show after dinner."
Day 7: Koh Samui
We set off on a two-hour ferry back to Koh Samui. I cried approx three (okay maybe four)times.  It was sad saying goodbye to everyone. As you'll know if you've travelled, you become so close to people and form connections you wouldn't in everyday life. We all said our (teary) goodbyes (I CAN'T HELP IT OK I'M AN EMOTIONAL BEING) and I flew to Phuket for the night before travelling further south to Koh Phi Phi Island.
I arrived still crying (I was mostly just so overtired I get emotional as in that state) and Doris on reception was so sweet. She took me up to my room and said "You're sad, don't worry I will look after you. Be happy, you are beautiful. I will hug you better." I met the sweetest souls on my trip.
Must Do:
Full Moon Party
"Before I went away everyone was like "Make sure you go to the Full Moon Party." I'm not a huge party gal anymore and don't drink a lot either so I wasn't phased, plus I realise I'm about ten years too old. We all got matching #squad outfits, covered ourselves in  and body paint and went to a bar at the the end of the beach. I was most stoked about the outdoor garden area, it looked like a fairy garden and the toilets were in a cave. We spent most of the night dancing, I recommend staying in a bar for most of the party; once we went onto the beach the vibe was super violent."
Snorkelling 
"We snorkelled in four of the top snorkelling spots in Thailand. We swam with so many fish every colour of the rainbow, with small sharks and massive turtles. Turtles are the coolest and have the most calming, chilled out energy.  I swam right above them,  Bucket list stuff!"  
Dinner and Nights Out
"We went out for dinner and drinks most nights on the tour, some nights were bigger than others, but the cool thing was everyone looked after each other and we had a lot of fun and LOLs. On our last night in Koh Tao my roommate Lauren and I went to get traditional bamboo tattoos at Bamboo Tattoo Studio in Sairee Beach."
Bel's Thailand Tips:
Don't get a spray tan before you go away, you will sweat it off and it'll be a patchy mess 
Only drink and brush your teeth with bottled water (and close 'yo smart mouth in the shower)
Get cash out from an ATM when you arrive and when you need during your trip. The ATM charge is minimal, Make sure you let your bank know you're away so they don't block your account
You don't need to get injections before going to Thailand. Just don't pat dogs, cats or monkeys (some have rabies) 
If you're staying at a resort go to the villages to eat, the food is SO much better and cheaper
I didn't eat any meat apart from seafood- be careful with what you eat (this one night mine and my roommates' tummies were making some questionable sounds, let's just say never trust a fart in these situations)
Be safe and stay hydrated
What You'll Need: 
It's very humid so make sure you take light, comfy clothes. You will sweat A LOT and need multiple cold showers each day
Sunblock. A lotion is best because you sweat it all off and I found the spray didn't give good coverage. Put it on HEAPS
Aloe vera or any sunburn soothing alternatives. I'm allergic to aloe so use calamine lotion. A number of people on our tour got super burnt so I was covering their backs with creams and cold towels
Insect repellent you will need this a lot, especially on any nature walks
Anti-septic cream
Ginger tablets. We all felt sick at some point, I often feel nauseous so the ginger tablets I took were a lifesaver. Ginger tea helps too 
Anti-shit-your-pants pills 
Plasters
A mini hand sanitiser to put in your handbag (sometimes bathrooms don't have water and soap)
Walking shoes, you don't want to hike or walk on rocks in jandals 
Backpack for all of the Dora exploring
A European travel adaptor 
Read Bel's full blog here!