Here's how to nail single life like a boss babe
Publish Date

Wednesday, 8 August 2018, 3:57PM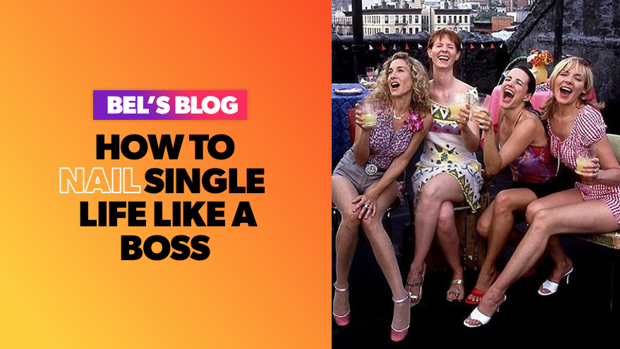 Our girl Bel, from Jam Packed Workdays with Bel, is a pro at being single. 
She's passing on her wisdom, with The Single Gals Guide to Nailing Life (her full blog is here) - read her top 10 single gal tips below!
BEL'S TIPS TO NAILING SINGLE GAL LIFE: 
This time is all about YOU 
Beautiful, clever you. It's a super cool opportunity for you to grow, work through anything you need to so you can live your best life. Enjoy it!
Work out what you do and don't want out of life and a relationship 
You get to choose! (How lucky are we to have so much freedom, so many people don't so count your lucky pretty stars please).
Make self-care your #1 hon 
I wrote a blog on this which you can read

 

here. Take super good care of yourself. Nourish yourself but eat the pizza and treats, go to the gym, do your pilates and yoga, have massages and candlelit bubble baths. 

Get some hobbies 
Go for hikes in nature, learn new things. Enrol in a cooking class, learn a language or how to meditate. You never know you might meet someone through these activities. Be creative, read stacks of books, listen to podcasts. 
Have some really good single friends 
Like-minded people that like doing similar things to you. That way you have someone to do your Netflix and Ubereats Friday and ok Saturday nights with as well. Couple friends are usually doing their own thing and often leave single friends out. Let go of any shitty friends that make you feel bad about being single.

Make plans 
Everyone's so busy, if you want to catch up with your friends (especially friends in relationships) you need to make plans in advance to do things, lock in a date, set up a group message. 
Go on dates 
If you want to go on dates and meet people, do it. Single gals and guys know you go through phases of wanting to do this. There's no harm in setting up some dinner dates, using dating apps whatever works for you. Read my dating tips from a previous blog

 

here. 

Treat yourself 
You don't need a boyfriend or girlfriend to treat you, you can do that yourself. Take yourself on little dates and buy yourself treats, flowers, or things you want.
Go travelling on your own 
Want to travel but feel like you can't because you don't have an other-half? Well good news, you don't need one! Book a trip, do a Topdeck tour where you'll meet heaps of other solo travellers. You'll end up having really good friends in lots of different countries and you might even find love on your travels.
Basically, make sure you're living your best life 
You might not be single for long so make the most of the time which will set you up super well for your next relationship, or maybe you'll be single for a while so learn to nail single life like a boss babe. 

If you love health, fitness, beauty, travel, basically anything basic b*tch then check out Bel's blog here! Or follow her on insta here!