MEGAN'S ALL THE WAY TO THE DAY WEDDING BLOG: Seaweed Body Wrap
Publish Date

Thursday, 30 November 2017, 1:40PM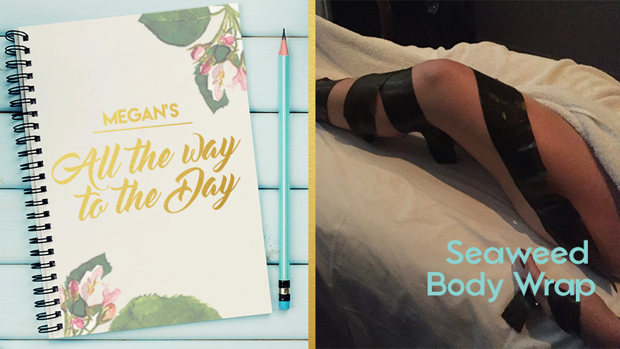 I have literally never had a body wrap of any kind, but I hear they are good combined with a diet and exercise regime and can reduce cellulite etc, so I thought… hit me!
I went for the Voya Organic Seaweed Leaf Wrap at the Spa at the Pulman in Auckland. If you are going to wrap your body in something and soak in all it's goodness, it makes sense that it's organic.
The treatment starts with a full body scrub to detoxify and soften your skin. Then comes the seaweed.
I didn't know what to expect, was it going to be green, ruffly stuff that brushes up against me in the ocean, or the brown bauble looking ones that you could pop as a kid…
It turns out this Laminaria seaweed is specially farmed for this treatment, and is so soft and silky! The long, thick strands are then wrapped around your body, legs, arms, back, and stomach – I've always wondered if they wrap your butt and everything, so to answer that, no they don't.  Then you are tucked in to a blanket to let your body absorb the moisture.
After the treatment, my body literally felt like I had just been born! I swear as soft as a baby!
You do smell a bit like seaweed, but I didn't mind that, then you know you are dealing with real organic stuff, so I wouldn't go for this treatment and then head back to the office or to a function unless you could guarantee a shower in between, but I also didn't want to shower straight after cause I didn't want to wash off the goodness on my skin!
As for results, my skin is soft, I'm not sure about it being any tighter just yet… but it also has healing properties, so it is good internally as well.
The overall experience but pretty decadent, so if you know someone who needs an absolute treat, or a stressed-out bride, it really is the perfect thing to make you feel calm and nourished inside and out.
Treatment costs $290