Stream Fletch, Vaughan & Megan Live on your TV
Publish Date

Friday, 27 March 2020, 11:16AM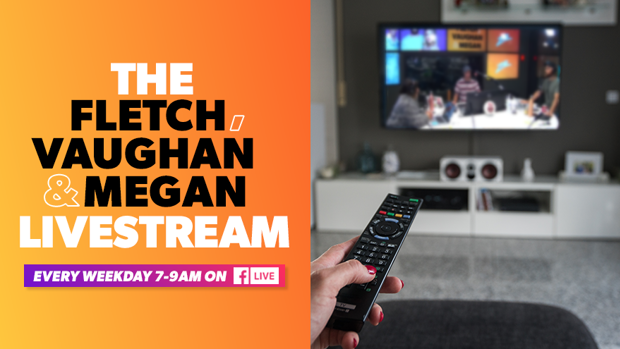 You're about to see a whole new side of Fletch, Vaughan, & Megan!
If you've ever wondered what happens while the songs are playing, we're gonna show you, it's just as crazy off the air than it is on. 

With the country in quarantine, if you're looking to add bit of extra fun in the background while you go through your morning routine. 

Fletch, Vaughan, and Megan will be live streaming their show every weekday morning from 7am-9am!

You can watch the normal way on a phone or tablet and have fun in the comments during the show,by logging into Facebook. 


Or if you'd like FVM on your widescreen in 4K HD super duper luper quality or whatever features your television has, here are the easy instructions to follow.
Download the Facebook Watch TV App
Go to the app store for your television platform (see our list of supported TVs and devices) and download the Facebook Watch TV app.
Open the Watch app on your TV. Go to Your Videos then click Continue with Facebook.

You'll see a screen with a code:

To confirm the code that appears on your TV, open the Facebook app on a mobile device, then tap the notification at the top and tap Approve, then tap Continue. Or, you can go to facebook.com/device on a computer or phone, then enter the code manually and click or tap Continue.


Stream Facebook videos to a TV
Make sure your TV is connected to a streaming device (example: Apple TV, Chromecast or Samsung TV) and is on the same Wi-Fi network as your mobile device or computer.
Open the Facebook app on your mobile device or computer and find the video you'd like to stream.
Tap the video to expand it to full screen mode.
Tap  in the top right of the video.
Select the TV where you'd like the video to play.
Take your Radio, Podcasts and Music with you