Here's where you can see the best Christmas light displays around NZ!
Publish Date

Thursday, 7 December 2017, 4:19PM
We all have those memories of filling up the family car to head out and see some of the coolest Christmas light displays in town.
With the pre-Christmas feels in full swing, you're never too young or old to take in the colourful displays.
But sometimes the best spots can be a little hard to locate! So here's your guide to where to find the best Christmas light spots over the country!
Kirsty and Lee Hamel have spent the last four months prepping their home at 15 Lagoon Way, West Harbour, Auckland. Photo / Dean Purcell
The Franklin Rd tradition has been alive in Ponsonby for 25 years now, attracting thousands of people each year from around New Zealand and the world.
The 2017 Franklin Rd Christmas lights are turned on at 8.30 until 11pm every night from December 1 to December 26.
Karaka Lakes Christmas Lights, 20 Cornwall Place, Karaka
Karaka Lakes Christmas lights on show in 2016. Photo / Facebook
Light up Karaka Lakes has been running since 2010. The highlight is the flashing lights synchronised to Christmas carols and the soundtrack to the movie Frozen.
The light show starts at 9pm and Santa offers free rides on his sleigh from 8pm.
Motat Night Christmas lights, 805 Great North Rd, Western Springs
Motat is once again celebrating the spirit of giving with its special Christmas Lights. The Museum grounds will be transformed by magical fairy lights illuminating the streetscapes, trams and buildings. There will be live entertainment, Christmas fare and Santa's grotto.
Entry is $2 and children under five can enter for free. All proceeds will go towards Women's Refuge and Auckland City Mission.
Harrowfield Drive, Hamilton
The Harrowfield Christmas lights competition is a much-loved fixture on Hamilton's Christmas calendar. Thousands of people flock to Harrowfield to catch a glimpse of the Christmas spirit. More than 1500 children walk Harrowfield every Christmas with displays including Christmas songs and Star Wars theme tunes.
Christmas Lights competition judging takes place on the evening of Monday, December 18.
TSB Festival of Lights, Pukekura Park, New Plymouth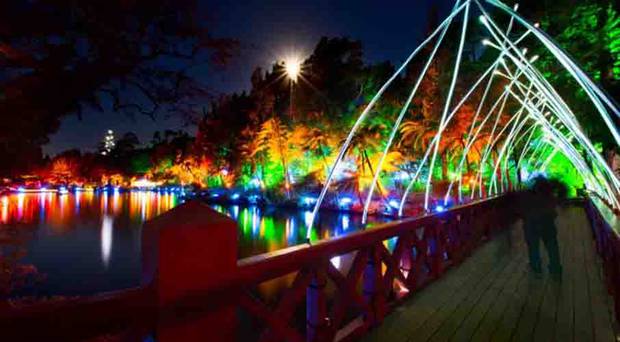 The festival of Lights at Pukekura Park in New Plymouth attracts more than 100,000 people every year. Photo / Festival of Lights
Each summer the TSB Festival of Lights transforms Pukekura Park, one of New Zealand's premier botanical gardens, into a magical illuminated night-time wonderland of multi-coloured lights gleaming amongst the trees, attracting more than 100,000 visitors each year.
It runs from Saturday December 16 through to Monday February 5.
Tremains Christmas Lights, Napier/Hastings/Havelock/Taradale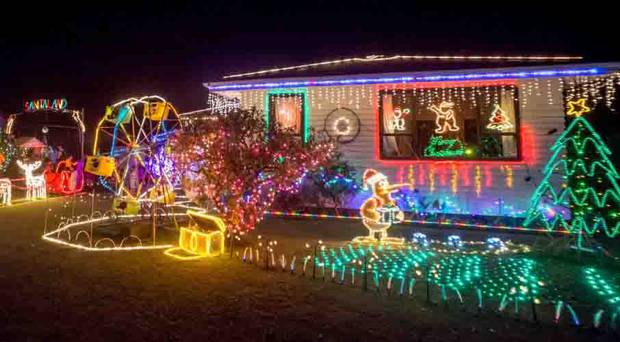 The Tremains Christmas Lights extravaganza in Hawke's Bay. Photo / Facebook
Lights will be running from December 1 to 24, with tickets for buses and guided tours $5 each.
Te Papa Christmas Lights Extravaganza, 55 Cable St, Wellington
The Christmas Lights Extravaganza offers a sneak-a-peek at sleeping Santa and an interactive elves workshop surrounded by magical lights and Christmas trees.
The display will be open between Dec 8 and 10 and December 15 to 16 from 9-11pm.
Christchurch Christmas Lights show, 650 Shands Rd, Christchurch
Complete with rollercoaster, ferris wheel, swing chair and merry-go-round, the Christchurch Christmas Lights show is set to bring the city to life. Entry is available every night from 8.30pm through to December 30. Entry is $5 per person.
Donnington St, Parklands, Christchurch
A number of houses on Donnington St have been registered in the Light Up Christmas list by the public, likely making it one of Christchurch's most popular Christmas lights street displays for 2017.
This article was first published at nzherald.co.nz and was republished here with permission.