FAQ and everything you need to know for Float 2019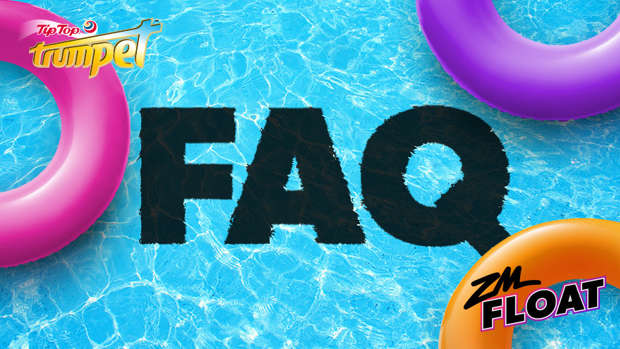 FLOAT INFO
Alcohol and smoke-free event.
Ticketed event open to all ages.
When

Saturday 16 February 2019
10am - 6pm 
Where

Lake Tikitapu, Rotorua 
Boats for Float

• There will be no boats at Float this year
Floaties
• There will be 600 free floaties available - first in first served
• We encourage you to bring your own floating device inflated before you arrive
• Float Rings are preferred
• There will be an inflation station at the event, however, be aware that the station gets very busy 
• Please note that oversized float devices will not be permitted at Float for safety reasons - Your floatie should be for 1 person only
Ticketing

• Tickets can be purchased for $65 from GrabOne
• You may show your ticket on your smartphone to get in
• No pass outs - once you are in the event you cannot leave and come back in 
Age Restrictions

• Float is an all ages event. We request that only competent swimmers get in the water for the Float Concert.
• You must be 16 or over to be eligible for a free ZM swim ring.
• To gain entry to the event, each person regardless of age must have purchased a ticket via grabone.co.nz. There are no discounted tickets for children.
Food & Drinks

• Lake Tikitapu is an alcohol-free area. Anyone found to have alcohol will have it confiscated by security. Please respect this and leave it at home.
• There will be vendors on site throughout the weekend to purchase food and non-alcoholic drinks. There will be water available on site.
• You will be able to pay with cash or EFTPOS at the vendors.
• You are allowed to bring in food and non-alcoholic drinks. There will be bag-checks before the Float concert to ensure no alcohol is brought in.
• Anyone who is appearing drunk and disorderly will also not be allowed in or may be asked to leave the venue by security.
Toilets & Rubbish

• There will be extra toilets and rubbish bins and recycling stations placed on site across the day.
• Please be respectful and take your rubbish with you.
Safety & Security

• During the event, there will be an on-site security & medical team.
• There are no lockers rooms at the event, so possessions are to be left at your own risk.
• The designated float zone will be patrolled by trained lifeguards and volunteers so people can float and watch the concert. Once this area is full, for safety reasons we will not allow further people in. People can float in other areas at their own risk.
• For the Float event, there will be increased security on-site. Anyone who does not adhere to the security regulations or instructions on event day, will have their wristband taken off them and asked to leave the venue.
Wet Or Extreme Weather

• The event will go ahead even if it is raining.
• Please check our social media for updates in the case of extreme weather.
For Bomb Comp info, comp registrations and day passes please visit nzbombcomp.co.nz.