Grab yourself one of Jase & PJ's Limited Edition Birthday Candle Air Fresheners!
Publish Date

Friday, 3 November 2017, 4:08PM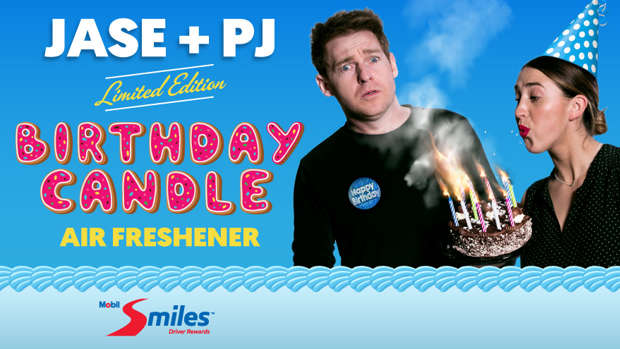 After taking a ride in PJ's car and experiencing something the resembled the smell of a dead body, Jase & PJ decided to make their own car air freshener.
Rigorous deliberation, unique testing methods and votes from across New Zealand resulted in one car air freshener to rule them all: birthday candle scent.
Everyone loves the smell of blowing out a birthday candle and now you can take it with you wherever you travel.
On Wednesday the 8th of November, Jase and PJ launched 1,000 limited edition air fresheners into 6 Mobil stores – within 24 hours these were completely sold out.
Due to extreme popularity (and Jase accidently adding an extra 0 to the order) TEN THOUSAND Jase & PJ birthday candle scented car air fresheners will now be available at over 80 Mobil Stores across NZ. Experience the beautiful birthday candle scent without the reminder you're getting older.
To get yours, all you have to do is show your Mobil Smiles Drive Rewards card or pick one up and you'll get a FREE limited edition air freshener.
Jase & PJ's Limited Edition Birthday Candle Air Fresheners will be available at over 80 Mobil sites across the country from 5pm Monday November 13th – check to see where you can grab yours from below. Don't miss out!
Register your Mobil Smiles Card today to enjoy all the benefits of membership. Swipe your Smiles Card whenever you fill up at Mobil and start earning points instantly!
NORTHLAND
Mobil Dargaville: Cnr Poto & Normanby Street, Northland
Mobil Plaza: Walton Street, Whangarei
AUCKLAND
Mobil Avondale: 2060 Great North Road, Auckland
Mobil Blockhouse Bay Road: 262 Blockhouse Bay Road, Auckland
Mobil Constellation Drive: 48 Constellation Drive, Auckland
Mobil Dominion Road: 734 Dominion Road, Auckland
Mobil Drury Lane: 222 Great South Rd, Auckland
Mobil Eden Park: 33-37 Sandringham Rd, Auckland
Mobil Greenlane: 60 Greenlane Road East, Auckland
Mobil Henderson: 17-19 Valley Rd, Auckland
Mobil Highland Park: Cnr Pakuranga Road & Aberfeldy Avenue, Auckland
Mobil K'Rd: Cnr K'Rd and Ponsonby Road, Auckland
Mobil Lincoln Road: Cnr Lincoln Rd & Central Park Drive  Henderson
Mobil Mangere:751 Massey Rd, Auckland
Mobil Manurewa: South               319 Great South Rd, Auckland
Mobil Mt Eden: 506 Mt Eden Rd, Auckland
Mobil Mt Richmond: 629 Mt Wellington Highway, Auckland
Mobil Mt Roskill: 386 -390 Mt Albert Rd, Auckland
Mobil Mt Wellington: Cnr Penrose Road & Mt Wellington Highway, Auckland
Mobil Onehunga: 15-19 Selwyn St, Auckland
Mobil Orams Road: 8a Great South Rd, Auckland
Mobil Panmure:1 Jellicoe Road, Auckland
Mobil Papakura: 347 Great South Road, Auckland
Mobil Papatoetoe: 73 East Tamaki Road,Auckland
Mobil Parnell: 506 Parnell Rd, Auckland
Mobil Pukekohe: Cnr Manukau Rd & Massey Ave Franklin
Mobil Quay Street: 14 Quay Street, Auckland
Mobil St Lukes: 51 St Lukes Road, Auckland
Mobil Ti Rakau Drive: 242 Ti Rakau Drive,Auckland
Mobil Oteha Valley: Cnr Fairview & Oteha Valley Rd, Auckland
Mobil Red Beach: 72 Red Beach Rd, Auckland
Mobil Smales Rd: 30 Smales Rd, Auckland
Mobil Takapuna:114-116 Anzac Ave, Auckland
Mobil Torbay: 961 Beach Rd, Auckland
Mobil Wairau Road: 141-143 Wairau Road, Auckland
WAIKATO
Mobil Seddon Street: 11 Seddon St, Waihi
Mobil Avalon Drive: 65 Avalon Dr, Hamilton
Mobil Cambridge: 83 Queens Street, Cambridge
Mobil Clyde St: Cnr Clyde St & Peachgrove, Hamilton
Mobil Hillcrest: 286 Cambridge Rd, Hamilton
Mobil Huntly: 320 Great South Road, Huntly
Mobil Karapiro: State Highway 1               
Mobil Lake Rd: Corner Hall & Lake Road, Hamilton
Mobil Matamata: 97 Firth Street, Matamata
Mobil Morrinsville: 67-71 Thames Street, Morrinsville
Mobil Taupo: 119 Tongariro St, Taupo
Mobil Te Awamutu: 133 Arawata Street, Te Awamutu
Mobil Thames: Cnr Queen St & Mary St, Thames
GISBORNE
Mobil Portside: 49 Wainui Rd, Gisborne
HAWKES BAY REGION
Mobil Stortford Lodge: Pakowhai Rd, Hastings
MANAWATU
Mobil Awapuni: 734 Pioneer Highway, Palmerston North
Mobil Bulls: 101 Bridge St, Bulls
TARANAKI
Mobil New Plymouth: Cnr Leach & Elliot Street, New Plymouth
BAY OF PLENTY
Mobil 10th Avenue: Cnr 10th Avenue & Cameron Road, Tauranga
Mobil Brookfield: 146 Otumoetai Rd, Tauranga
Mobil Causeway: 60 Chapel St, Tauranga
Mobil Opotiki: 89 Church Street, Opotiki
Mobil Reid & Mills: Cnr Fenton & Te Ngae Rd, Rotorua
Mobil Sunset: Cnr Old Taupo & Sunset Rds, Rotorua
Mobil Te Ngae: 238 Te Ngae Road, Rotorua
WELLINGTON
Mobil Cannons Creek: Cnr Mungavin Ave & Champion St, Porirua
Mobil Johnsonville: 4 Johnsonville Rd, Wellington
Mobil Kapiti: 20-22 Amohia Street, Paraparaumu
Mobil Karori: 245 Karori Road, Wellington
Mobil Kilbirnie: 1 Bay Rd, Wellington
Mobil Lower Hutt: 657 High Street, Lower Hutt
Mobil Otaki: 187-191 Main Highway, Otaki
Mobil Paremata: Main Highway, Wellington
Mobil Petone: 3 Hutt Road, Lower Hutt
Mobil Porirua: 5 Kenepuru Drive, Porirua

CHRISTCHURCH
Mobil Bealey Ave: 268-270 Bealey Ave, Christchurch
Mobil Creyke Road: 106-108 Creyke Road, Christchurch
Mobil Papanui: 23 Main Nth Rd, Christchurch
Mobil Redwood: 352 Main Nth Rd, Christchurch
Mobil Riccarton: 33 Riccarton Road, Christchurch
Mobil Sydenham: 290 Colombo Street, Christchurch
Mobil Yaldhurst: Main West Coast Road, Christchurch
Mobil Woolston: 619 Ferry Road, Woolston
MALBOROUGH/TASMAN
Mobil Blenheim: Cnr Grove & Nelsen St, Blenheim
Mobil Stoke: 565 Main Rd, Nelson
Mobil Tahunanui: 28 Tahunanui Drive, Nelson
DUNEDIN
Mobil Anzac Ave: 57 Anzac Avenue, Dunedin
Mobil Forbury: 579 Hillside Road, Dunedin
Mobil Northgate: 904 Cumberland St, Dunedin
Mobil Eastgate: 1 Wharf St, Dunedin 
OTAGO
Mobil Queenstown: 1 McBride St, Queenstown