ZM Presents Bay Dreams 2018!
Publish Date

Tuesday, 25 July 2017, 4:02PM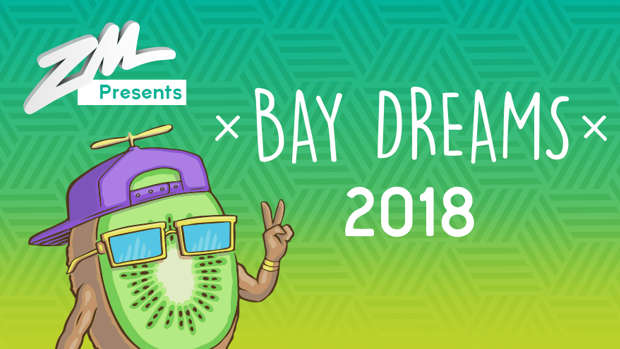 ZM PRESENTS BAY DREAMS 2018!
NZ's BIGGEST Summer Music Festival is back!
DJ Snake, Pendulum, Foster the People and many more! 
Bay Dreams returns, January 2nd with an impressive line-up, firming up its reputation as the summer music festival you just can't miss!
Spearheading the first lineup announcement is French DJ and producer extraordinaire DJ Snake, Aussie drum and bass heavyweights Pendulum and Californian indie-popstars Foster The People.
They'll share the stage with some of the most exciting names in Kiwi music right now, including Sachi, Concord Dawn and Theia. 
WHEN - January 2nd 2018 
WHERE - Baypark in Mount Maunganui
TICKETS - Tickets for Bay Dreams 2018 go on sale with a 24-hour ticket deal at 7.00pm Wednesday August 2 until 7.00pm Wednesday August 3.
General admission sales then start on Monday August 7 at 7pm.
Tickets available from www.baydreams.co.nz 
PLUS - The Bay Dreams pre-party on January 1 also returns in 2018. Although serving as a warm-up teaser to the main event, next year it promises to be bigger and better, with more revealed in the coming weeks.
AND - a new feature of the Bay Dreams experience will be Dream City, which provides camping and its own exciting line-up of entertainment.
BAY DREAMS 2018 – PRE-PARTY LINE-UP ANNOUNCEMENT:
Danny Brown, NAO, The Black Seeds, Summer Thieves, State of Mind, and Mana Lion
*Pre-Party tickets are available as an 'add-on' in your Ticket Fairy account and are only $69 until this Wednesday September 20 at 7pm, when after that they will go up in price. Camping for the pre-party on January 1 is also available as an add-on and start at $40.
 BAY DREAMS 2018 – FIRST LINE-UP ANNOUNCEMENT:
DJ Snake; Pendulum; Foster The People; $uicideBoys; Flatbush Zombies; Ocean Alley; Homebrew; Classixx; Krafty Kuts + Chali 2na; Opiuo; FKJ; Sons of Zion; Hybrid Minds; Swindail; Sachi; Eptic; Skism; A.Skillz; P-Money; Matrix & Futurebound; Cynatific; Koven; Truth; Willaris.K; Concord Dawn; Theia; Nyxen; Bailey Wiley; T1R; TwentyTwo
BAY DREAMS 2018 – SECOND LINE-UP ANNOUNCEMENT:
 Machine Gun Kelly, The Upbeats, Maribou State, Written By Wolves, Trei, Flowidus, Spectrum and Jason Davis.